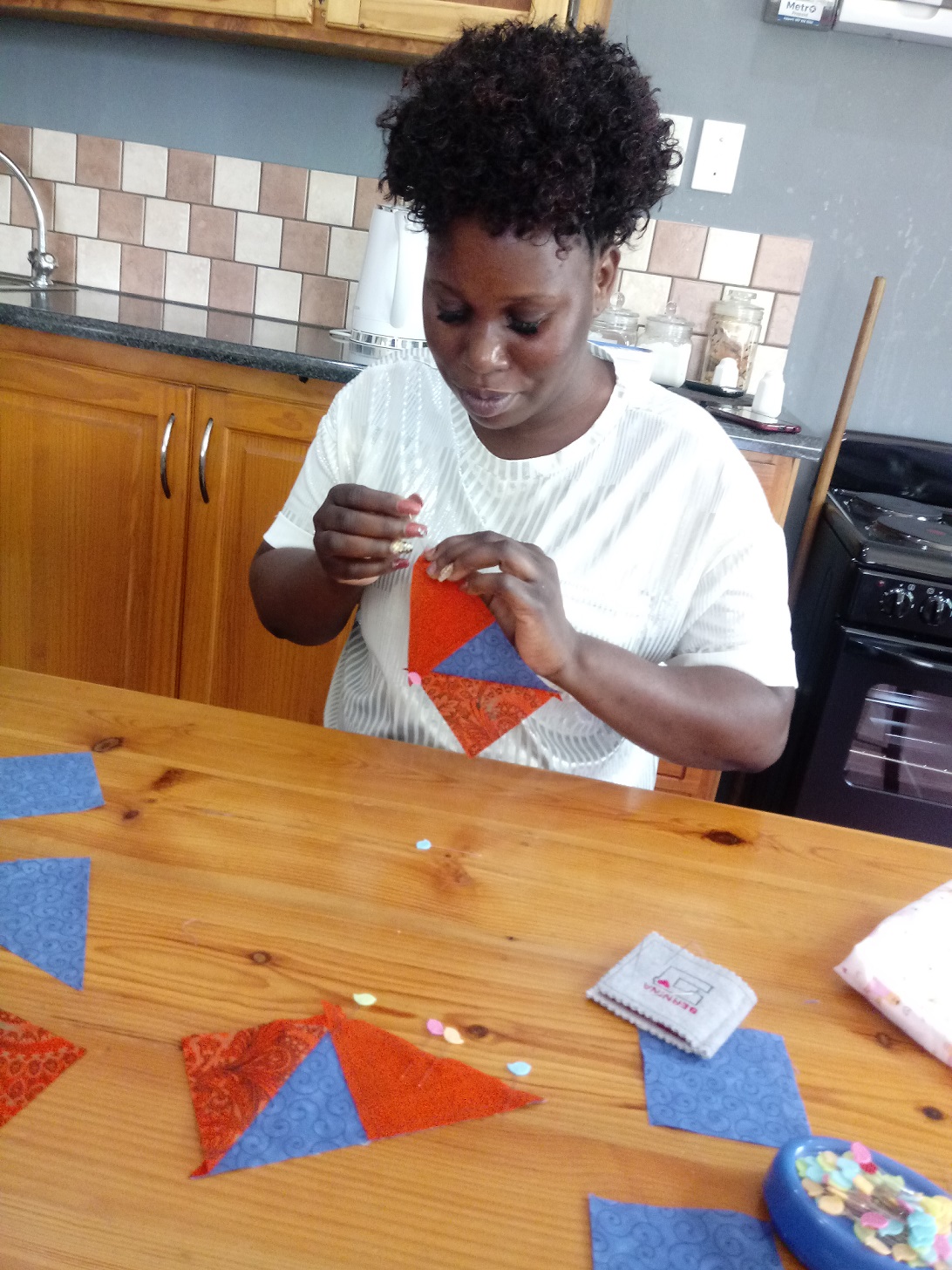 On Tuesday night, during dinner, Thembi and I discussed how I would go about teaching Thembi how to teach her students.  We discussed whether we should do handwork or machine work.  Eventually we decided that it would benefit the students most to do both:  handwork – for when they are at home without machines, and machine work – for when they are at the school. 
So on Wednesday, we made a Saw Tooth Star …..by hand.  We went through the process from beginning to end.  I taught Thembi everything that she needs to know about the cutting equipment, how to look after it and how to use it safely.  We then cut up our fabric – beautiful bright orange Shwe Shwe and a lovely piece of blue fabric.  Thembi is quite impressive with that cutter.  She came to terms with the inches very quickly and ⅞ths of an inch was a walk in the park!
We then carefully marked all the seam allowances, and began very carefully to pin and stitch the patches together.  We first made flying geese, then we joined them into a star.  By the end of the day, Thembi had her block finished.  We unpicked a bit but we got it done.  She really enjoyed making her star.  I was so pleased for her. 
At the back of my mind the whole time was how was she going to pass this knowledge on to her students.  Teaching someone to teach quilting in a week when she has never quilted before is quite different to teaching a regular quilting class.  I had to stop and explain things very simply and explain how she could explain it to her students.  An example of this was when I was showing her how to get even stitches by loading a few stitches at a time onto the needle.  I explained it as having two little camel humps on the needle.  It was fine for her as she knows what a camel is.  However, for her deaf students, that would not have worked at all as they don't know what a camel is!  So we tried other metaphors for her to use to explain the same thing.  We came up with little hills or mountains. 
When hand-piecing, you do two forward stitches and then a back-stitch.  I suggested they try to do a rhyme or a little song to get the rhythm of the stitching.  She said that it wouldn't work with her students as singing is not something the deaf can really relate to.  So we decided on a counted "rhythm" instead.
We had a wonderful day and she was delighted with what she had made.  She was confident that she would be able to show her students how to do hand-piecing. 
Day one done!  Bring on the machine piecing.