Blog by Lorette Kerr from Queensburgh Quilters Guild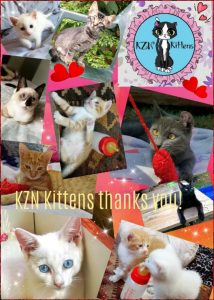 I have received a huge "Thank you" from KZN Kittens for the pillows and cushions that I made from the scraps that people collect for me!  Mandy from KZN Kittens said that they are also looking for steel mesh or roof sheeting to make an outdoor cattery – if anyone has any to donate!
Trish from the SPCA is also was very grateful and said that they will be using the cushions for the overnight indoor cages to keep the dogs and cats warm.
I am also very grateful to everyone who has been sending me their small scraps and old pillow cases and also the pieces of fabric from which I can make covers.
Keep it up!!