Are you going to the next Festival? This question arises amongst South African Quilters every 2 years.
What does a Quilt Festival comprise? There are 3 main elements for the organisers : The Quilt Show, The Classes, and the Vendors.
Hundreds of world-class quilts (South Africans can hold their heads up high as our quilts rival the best international quilt shows – indeed many South Africans have won prizes abroad)
Dozens of classes – by local and international teachers – beginners to advanced , different techniques, some serious and some fun – something for everyone
Vendors from around the country – all under one roof so to speak. Many have specials going thru Festival.
So whether you are a shopper, a learner, or appreciate art, there is something for you at a Festival.
But the best part is the camaraderie – you meet up with old friends, and make new ones. Quilters are such happy friendly and welcoming people!
I have come back from Interchange Festival renewed, revitalised and full of energy for quilt-making, full of happy contentment. It is without doubt the best therapy I can have.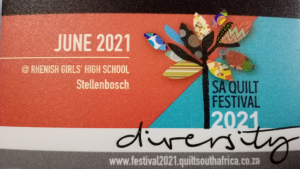 The next Festival is in Cape Town in 2021 with the theme Diversity – will you be going? That is the question. Answer YES and start planning and saving now!
See you in Cape Town in 2021!